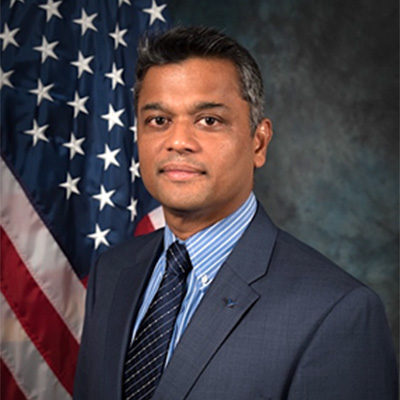 Dr. Rajesh Naik joined The Roosevelt Group as a senior advisor in January 2022. Rajesh has 20+ years of Science & Technology experience within the US Department of Defense leading R&D portfolios in Human Performance, Human-Machine Teaming, Aerospace Medicine, Synthetic Biology and Biotechnology programs.
Dr. Naik was previously appointed the Chief Scientist at the 711 Human Performance Wing at the Air Force Research Laboratory, where he served as the principal senior technical leader for a 1600+ science and engineering workforce and executing a $450M+ R&D budget. He served as Air Force's senior technical leader for matters related to warfighter health and performance. He also served as Air Force Research Laboratory's interim Chief Technology Officer where he was responsible for the execution of the $2B S&T budget. Dr. Naik was the Air Force's senior executive on the OSD's Community of Interest in Human Systems and Biotechnology, and on the NATO S&T panel on Human Factors and Medicine. Dr. Naik currently serves as the Chief Strategy Officer for Mined XAI, an explainable artificial intelligence start-up focused on creating next-generation machine intelligent solutions.
Dr. Naik has published more than 300 peer-reviewed articles and several book chapters and has given more than 150 plenary invited and keynote presentations at national and international events. He has also been awarded 16 patents. Dr. Naik was elected Fellow of the Air Force Research Laboratory, Materials Research Society, Royal Society of Chemistry, and American Institute for Medical and Biological Engineering. Dr. Naik is an adjunct professor in the Department of Materials Science and Engineering at Georgia Tech. Dr. Naik obtained his Ph.D. from Carnegie Mellon University in Biological Sciences.