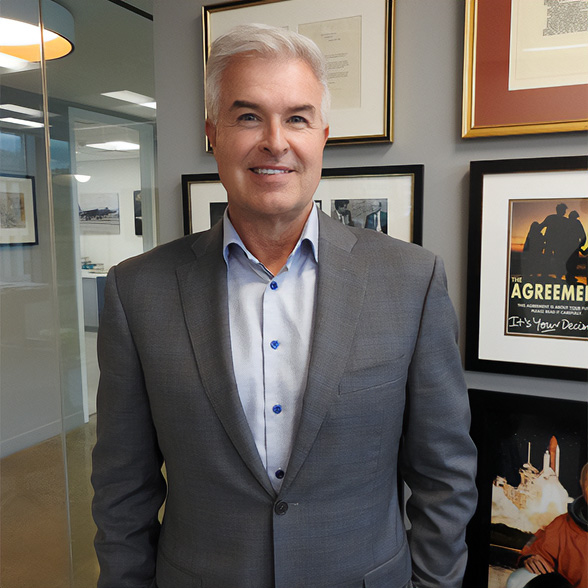 Budget & Appropriations
Transportation & Infrastructure
Military Installations & Communities
Biotechnology & Research
Advanced Technologies
Homeland Security
Climate & Development
Aerospace & Defense
John M. Simmons is a founder and managing partner of The Roosevelt Group and represents clients with interests in congressional appropriations, cybersecurity, defense, federal budget, homeland security, space and technology before Congress and the executive branch. His client base varies across the economic and political spectrum including small R&D startups, large companies targeting government procurement, economic development entities, as well as states and local military support organizations focused on military mission enhancement and growth.
Prior to founding The Roosevelt Group in 2012, John spent 11 years as a senior advisor at Akin Gump Strauss Hauer & Feld, LLP, where he initiated and led the national security lobbying and BRAC practice. As part of his portfolio, he successfully defended several states and defense communities during the last BRAC round. John worked with the City of Virginia Beach and Commonwealth of Virginia on a strategic plan to resolve mission and base encroachment issues in Hampton Roads, later recognized by Congress and the Department of Defense as the model for communities dealing with similar challenges.
Before joining the law firm, John served for a decade as the Appropriations Associate and Military Legislative Assistant to a senior Member of Congress who served as chairman of several House appropriations subcommittees — including the Military Construction Subcommittee and the Veterans Affairs and Housing and Urban Development Subcommittee — and ranking member of the Labor, Health and Human Services, Education and Related Agencies Subcommittee. In addition to handling appropriations matters, John supported the chairman of the Congressional Friends of Ireland and worked on all aspects of the Northern Ireland Peace Process, including Public Law 105-319, the Irish Peace Process Cultural Training Program Act of 1998, also known as the Walsh Visa.
John M. Simmons earned a Bachelor of Science degree from Rochester Institute of Technology and professional certificates in cybersecurity and artificial intelligence through Harvard University and MIT's Sloan School of Management, respectively.