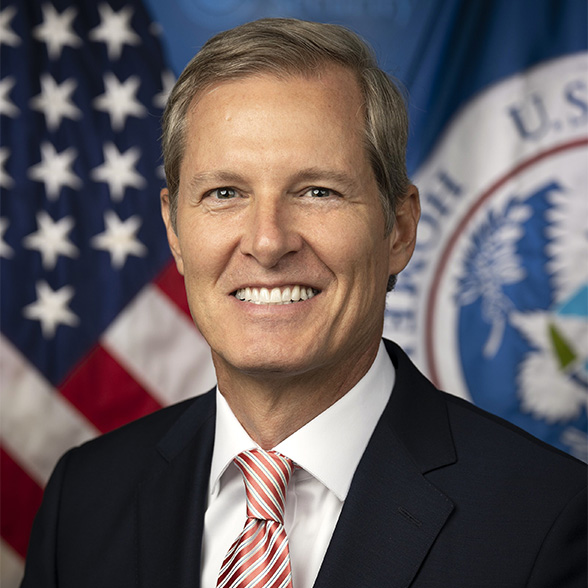 Budget & Appropriations
National Security
Charles 'Chase' Wollenhaupt joined the Roosevelt Group in 2023 as a senior advisor. He has worked throughout his 23-year career in Washington, DC, in strategy, advocacy, and policy with U.S. and global industry, associations, and non-profits to promote business interests and opportunities and mitigate the effects of harmful legislation, policy, and regulations.
Prior to founding Potomac Hill Strategies, Chase was the career federal official and acting Deputy Assistant Secretary for business partnership and engagement in the Office of the Secretary of Homeland Security. Chase provided the 'voice for business' to Department leadership, seeking to remove obstacles to growth and economic progress – while balancing DHS safety and security priorities. He led global and domestic engagements between DHS and corporate stakeholders to build strong partnerships, shape policy, and enhance internal and external dialogue. Chase provided consistency and stability to the business community over Democratic and Republican Administrations, specializing in transportation, tourism, global trade, forced labor imports, critical worker guidance, aviation, cyber threats, supply chains, logistics, visas, drones, and manufacturing issues, to name just a few.
Before DHS headquarters, Chase represented the U.S. Customs and Border Protection portfolio before the Senate Finance and House Ways & Means Committees, communicating CBP's congressional interests and concerns on global trade and transportation matters. He was significantly involved in developing and drafting the first CBP authorization bill: The Trade Facilitation and Trade Enforcement Act of 2015. He also developed legislative engagement strategies surrounding global supply chain initiatives and transportation facilitation measures; and previously worked on aviation, maritime, intelligence, and appropriations issues.
Chase has experience at the tactical, operational, and strategic defense levels as a former active-duty U.S. Army artillery officer, Iraq veteran, and congressional liaison. Prior to CBP, Chase advised senior military leaders on federal and state issues in the U.S. Defense Department, assisting in developing and directing the National Guard Bureau's relations with Congress. He ensured multiple state programs received necessary budget resources and authorizing language from the House and Senate Armed Services and Appropriations Committees. As a National Guard soldier, Chase was federally mobilized two weeks after the 9/11 attacks and served in the Pentagon's Army Operations Center. He was mobilized once more in 2005 and deployed overseas as an embedded advisor with the Iraqi Special Police, experiencing first-hand how a well-resourced supply chain improves warfighter mission success.
Between his government service, Chase was a critical infrastructure advisor at global consultancy Booz Allen Hamilton. He began his career in Washington, DC, at the U.S. Chamber of Commerce, ensuring state and local chamber positions were heard at the national level.
Chase regularly works with political appointees and career federal officials across the executive branch, the White House, and independent agencies. In Congress, he is well positioned to assist clients with matters before House and Senate offices, committees, and congressional leadership, drawing on a vast network of advocates to advance your objectives, solve problems, and create opportunities.