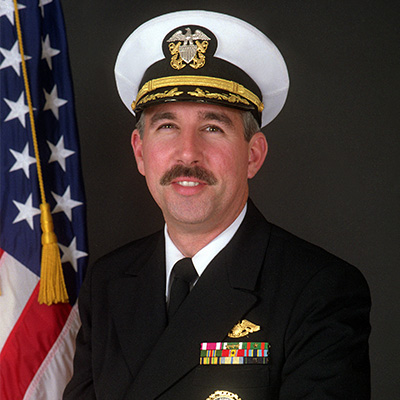 Mr. Sposato has 30+ years of experience in all areas of acquisition, lifecycle sustainment logistics, reliability, marine engineering, ship operations, and ship design. He currently provides subject matter expertise to the U.S. Navy for construction, operation, and sustainment of the Zumwalt class of destroyers. He also provides consulting services to commercial maritime businesses for marketing, business development and Request for Proposal bids.  He manages the development  and implementation of technical documentation including reports, schedules, recommendations, plans, performance metrics, briefs, drawings, specifications, design reports, equipment lists, procurement specifications, databases, design histories, trade-off analyses, impact studies, deficiency reports, and military specifications.  His extensive U.S. Navy Port Engineer, Engineering Duty Officer, Chief Engineer, and Shipyard Management expertise are widely recognized and have resulted in additional Expert Witness assignments with the Department of Justice (DOJ) concerning maritime litigations matters.
Positions Held and Relevant Work History
BLS Consultants, Inc, Operations, Maintenance & Readiness (OM&R) Subject Matter Expert, Present.  Leads team development, identification, and implementation of the DDG 1000 class all electric (78MW) new class of Navy destroyer maintenance strategies with key stakeholders. Provides support in the development, review, and approval of critically important  logistics strategies, sustainment efforts, policies, and deliverables. Leads Failure Review Boards, Shipyard requirements,  In-Service Maintenance support contracts, annual maintenance updates, Class Maintenance Plan (CMP) efforts, Shipboard Preventative Maintenance, and operating procedures.
American Management Systems U.S. Navy Port Engineer Program Manager Directed the efforts of 130 licensed and degreed Port Engineers in the accomplishment of their duties onboard all Navy combatants including CG, DDG, FFG, LSD, LPD, LHA/D, and others. This included ship class acquisitions and all HM&E and C4ISR maintenance and modernization efforts.  Introduced and provided training development of new maintenance initiatives within the Port Engineer Program. Led TYCOM efforts in Reliability Centered maintenance (RCM) and Condition Based Maintenance (CBM) .
Alabama Shipyard, Inc., Vice President and COO. Senior Manager responsible for the day-to-day operation of a commercial shipyard engaged in U.S. Flagged new ship construction, conversion, and repair. Maintained direct responsibility for the performance of the Production, Business Development, Project Management, Government Research Programs (DARPA), Engineering, Estimating, and Contract Management departments. Implemented and attained ISO certifications.
American Management Systems, Inc, Sr. Port Engineer/West Coast Manager Directed the efforts of over 50 Navy Port Engineers in the accomplishment of their duties onboard all surface combatants including CG, DDG, FFG, LSD, LPD, LHA/D, and others. Senior Port Engineer for the ship class acquisition, maintenance, and repair of six LSD 41/49 class ships.  Served as TYCOM representative for Fleet Introduction, Builders Trials (BT), Acceptance Trials (AT), Final Contract Trials (FCT), Post Delivery Availabilities (PDA), and Post Shakedown Availabilities (PSA), (SRA) and Drydocking Selected Restricted Availabilities (DSRA) of fixed price and cost-plus type contracts.
California Maritime Academy, Assistant Professor (Marine Engineering Department) Developed the curriculum and taught both academic and laboratory courses in practical marine and ocean engineering including USCG Rules and Regulations (CFR's), American Bureau of Shipping (ABS) classification requirements, Diesel Engineering, Automation, Safety and Firefighting, Boilers, Gas Turbines, and Ship Operations.
Commercial Maritime Sea Going Company, Allied Tankships, Chief Engineer Licensed Chief Engineer aboard American flagged merchant ships.  Responsible for operation, maintenance, budgeting, repair, and marine personnel of two engineering departments.  Represented owner for all regulatory inspections including U.S. Coast Guard and ABS. Deep understanding and familiarity with COTS equipment logistics support including obsolescence management, configuration control, technical data, provisioning, repair, and modernization.
United States Navy Engineering Duty Officer,  Captain, USN (Ret.).  Qualified Engineering Duty Officer with Fleet Maintenance and Acquisition specialties.  Captain Sposato' s distinguished Engineering Duty Officer career included a total of five Engineering Duty Officer commands at the Commander, and Captain level in the areas of maintenance, engineering, and logistics. He additionally held major Chief of Staff (COS) assignments at Naval Sea Systems Command (NAVSEA) and Chief of Naval Operations (OPNAV) N4 Fleet Readiness, and Logistics  These senior assignments highlight a broad depth and scope of support to the highest levels of senior Navy Flag and SES leadership while simultaneously providing technical leadership in ship acquisition programs, logistics, HM&E, combat and C4ISR systems and programs.