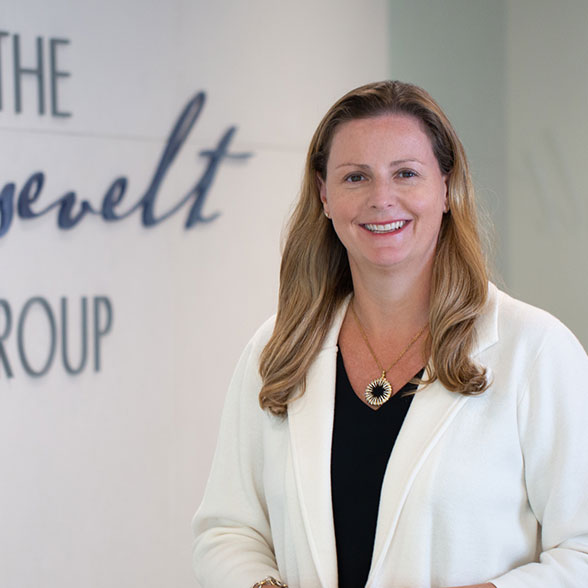 Budget & Appropriations
Transportation & Infrastructure
Military Installations & Communities
Homeland Security
Aerospace & Defense
Jamie Jones Miller joined The Roosevelt Group in January 2020 as a Senior Advisor. She most recently served as the Principal Deputy Assistant Secretary of Defense for Legislative Affairs at the Department of Defense where she advised the Secretary and Deputy Secretary of Defense on legislative strategy and developed and executed the congressional engagement strategy. Jamie previously served as Deputy Assistant Secretary of Defense for House Affairs. In these roles, she managed relationships with members of Congress and key congressional staff, the military departments as well as the White House, National Security Council and federal departments and agencies in support of DOD priorities. Jamie was awarded the Department of Defense Medal for Distinguished Public Service for her contributions to DoD from 2017-2020.
Jamie has thirteen years of Capitol Hill experience including service as Chief of Staff to Congressman Robert J. Wittman (VA-01) and Legislative Director for Congressman J. Randy Forbes (VA-04), two senior members of the House Armed Services Committee. She began her career in government relations as a Legislative Assistant at Hollings and Associates, LLC in Columbia, S.C. and as an Associate at Capital Partnerships, a Virginia-based consulting firm. Jamie received a B.A. from James Madison University (JMU) in International Affairs in 1999, a certificate in National Security Studies from National Defense University (NDU) and is a graduate of the fall 2018 PINNACLE course at NDU. Jamie is past president of the JMU Alumni Association and volunteers on several boards and councils for JMU and Alpha Sigma Tau National Sorority.
She currently serves on the Executive Committee for the Leadership Council for Women in National Security.