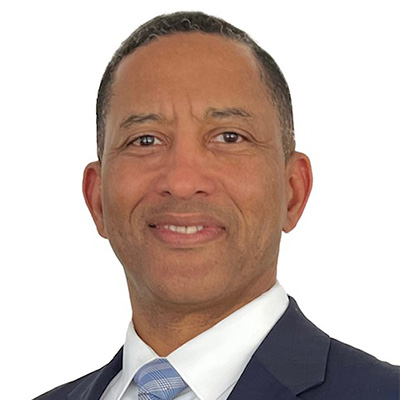 Lieutenant General (ret) Jason T. Evans has almost four decades of distinguished service with the U. S. Army. Jason joined The Roosevelt Group as a senior advisor in January 2022.  As an accomplished strategic leader, he has extensive command and staff experience at every level of the Army; Italy, Somalia, Kosovo, Germany and Iraq with the 13th Corps Support Command, III U.S. Corps, 510th Personnel Services Battalion, 1st Personnel Command, U.S. Army Europe, Allied Forces Southern Europe, Headquarters Installation Management Command, Multi-National Forces – Iraq, Army Human Resources Command, Army G-1, and Office of the Assistant Secretary of the Army.
In his culminating assignment with the Army, Jason was selected to serve as the Army's first Deputy Chief of Staff, G9 (Installations Enterprise) responsible for providing best Military advice to Army Senior Leadership for budget management of an $18B portfolio, policy, and regulatory guidance for 141 camps, posts, and stations Army-wide. His previous experience as a Garrison Commander and as a Deputy Commanding General, Headquarters Installation Management Command prepared him to be the Headquarters Department of the Army's principal expert and champion for the world's most capable and efficient installations. The Secretary of the Army designated the Army G9 to lead the Army's Quality of Life Task Force with the charter of improving the quality of life for 1.1 million Soldiers and their families in Housing/Barracks, Health Care, Child Care, Spouse Employment and Permanent Change of Station moves. The Army G9 was responsible for leading and or co-leading key initiatives critical to people, modernization, and readiness of Army installations; Climate Strategy, Army Installations Strategy Implementation Plan, establishment of the Army Control Systems Governance Office, Utilities Privatization Program Review, and leading the Army's reform of the Exceptional Family Member Program in support of 100,000 Soldiers and family members.
Jason has over 30 years of serving in and leading the Army's most prominent complex Human Resources commands and organizations. His experience includes, Human Resources, Talent Management, Human Capital strategy, and Diversity and Inclusion policy ranging from the Army's General Officer Corps, the civilian government workforce to the 1.1 million Soldiers from all components of the Army. He served as the Executive Officer to the Assistant Secretary of the Army, Manpower Reserve Affairs, Director, Personnel, Multi-National Forces – Iraq, The Adjutant General for the Army, Director Military Personnel Management, Army G1 and the Commanding General, Army Human Resources Command.
He holds an AA degree in Business Administration from Wentworth Military Academy, bachelor's degree in business administration from Bellevue University, NE and master's degrees in business administration and national resource strategy from Webster University, AR and the Industrial College of the Armed Forces, Washington, DC
Lieutenant General (ret) Evans' awards and decorations include the Distinguished Service Medal (with two Oak Leaf Cluster), Legion of Merit (with two Oak Leaf Clusters), Bronze Star Medal, Defense Meritorious Service Medal, Meritorious Service Medal (with four Oak Leaf Clusters), Army Commendation Medal (with Oak Leaf Cluster), Army Achievement Medal (with Oak Leaf Cluster), Parachutist Badge, and the Army Staff Identification Badge.